This article is transferred from the article on official account of educational equipment network on June 22
Shandong Yuanda-llongwill Education Technology Co., Ltd. (hereinafter referred to as Yuanda-llongwill), founded in 1997, is a listed enterprise of the national small and medium-sized enterprise share transfer system. It is committed to the development, promotion and application of innovative experimental systems and environmental health products. Its main business includes the development, production and marketing of digital experimental teaching instruments and non-toxic and harmless disinfection and epidemic prevention equipment based on chlorine dioxide.
With the qualifications of National High-tech Enterprise, Software Enterprise, Shandong Engineering Technology Research Center, Jinan 'One Enterprise One Technology' R&D Center, Jinan Intellectual Property Pilot Enterprise, AAA Credit Rating Enterprise, Yuanda-llongwill has passed the ISO9001 Quality Management System Certification, the ISO14001 Environmental Management System Certification, GB/T45001 Occupational Health and Safety Management System Certification and GB/T 29490-2013 Intellectual Property Management System Certification. Yuanda-llongwill is also the platinum member of Worlddidac, member of China Educational Equipment Industry Association (CEEIA), Shandong Educational Equipment Industry Association, Shanghai Educational Equipment Industry Association and Shanghai DIS R&D Center for Primary and High School.
Recently, the "Industry Forum" column of the Communication of China Education Equipment Industry Association made an exclusive interview with Dr. Li Ding, president and general manager of Yuanda-llongwill, and asked him to talk about the development of Yuanda-llongwill in the field of education equipment for more than 20 years.
Interviewer: Yuanda-llongwill has developed in the field of digital experimental teaching for many years, and its "llongwill" digital information system laboratory has a high reputation. Please talk about why your company has been focusing on the development of digital experimental teaching for such a long time.
Li Ding: reviewing the history of scientific development, it is after the addition of experimental methods and mathematical methods that the traditional natural philosophy based on observation finally evolved into science. Therefore, today's science can also be called experimental science. From this perspective, experiment is the cornerstone of science, and experimental teaching has become the foundation of science education. 《The opinions of the Ministry of education on strengthening and improving experimental teaching in primary and secondary schools》 (Educational Foundation [2019] No. 16) points out that experimental teaching is an important teaching content stipulated by the national curriculum plan and curriculum standards, and an important way to cultivate innovative talents. Cognitive psychology research also proves that experimental teaching is the concentrated embodiment of embodied cognition, and is one of the best channels for the integration of knowledge and practice, and also an important source of one's scientific literacy and scientific spirit.
On the basis of fully understanding the position and role of experimental teaching in the whole education system, we believe that experimental teaching itself is not immutable. With the rapid development of information technology, the tools, means and teaching forms of experimental teaching will undergo irresistible changes. The application of new technology will significantly improve the efficiency of experimental teaching, improve students' cognition of science, cultivate and exercise students' comprehensive ability to use information technology tools to engage in social and engineering practice, and strengthen teachers' evaluation of experimental teaching process. Digital experiment is a key point of the combination of information technology and experimental teaching in the tide of digital transformation of education. Therefore, the research and implementation of digital experiment has great educational, teaching significance and social value, which is worth our full and long-term efforts.
At the same time, we also realize that with the development of society, people are bound to pay more and more attention to the damage of campus epidemics to the health of teachers and students and the interference of teaching order. This is also the starting point for us to enter the field of campus health and develop a non-toxic and harmless campus environmental intervention system based on chlorine dioxide.
Q: how do you view the digital transformation of education? In this process, how can Yuanda-llongwill help the digital transformation of school or regional education in its own way?
A: The digital transformation of education is not only the necessity of social development, but also an important part of our national development strategy. It is a key measure to improve the quality of education and talents by using information technology to ensure the competitiveness of the country and the nation. The digital transformation of education is inseparable from the digital transformation of experimental teaching. Facts have proved that the digital transformation of experimental teaching is exactly one of the most difficult links in the whole digital transformation of education. Over the past 20 years, relying on the Shanghai DIS R&D Center, which cooperates with the Teaching and Research Office of the Shanghai Municipal Education Commission and Shanghai Fenghua middle school, Yuanda-llongwill has successively exported our own research results to the national curriculum standard development team and textbook compilation team of multiple disciplines, the teaching and research departments of provinces, autonomous regions and municipalities, and the educational equipment management departments at all levels, including digital solutions for experimental teaching, teaching application cases and teaching evaluation results of experimental teaching in various disciplines and stages, which provide support for the reform and development of curriculum standards, teaching materials and equipment standards. Therefore, a teaching resource platform to promote the application of digital experimental teaching is constructed, which promotes the transformation of teaching ideas and teaching behaviors in the field of experimental teaching in primary and secondary schools. The relevant achievements of Shanghai DIS R&D center also won the first prize of national teaching achievement in 2014. In this process, relying on product promotion, teaching guarantee, customized research and development, project cooperation and other efforts, Yuanda-llongwill has provided in-depth services to nearly 10000 teaching organizations across the country, including a large number of free support and free development work, and contributed its own strength to the digital transformation of education. The more prominent examples are the Xinjiang DIS R&D Center jointly established with the Department of education of Xinjiang Uygur Autonomous Region in Bayi Middle School in 2008, several digital experiment teaching application training held with the education equipment management departments of Shandong, Shaanxi, Hebei and other provinces, and the application research based on the "llongwill Sailinger® Primary School Science Exploration system" with many districts of Shanghai. The products of the company have won the innovation award of the World Federation of teaching aids for three times.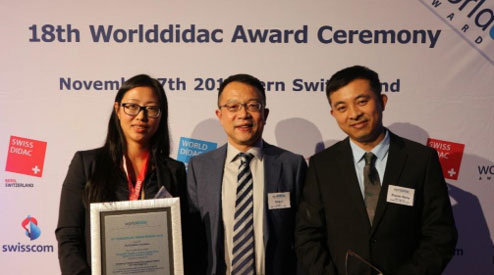 On November 7, 2018, Dr. Li Ding (middle), president and general manager of Yuanda-llongwill, and his colleagues received the Second Worlddidac Innovation Award in the history of Yuanda-llongwill in Bern, Switzerland
Q: In recent years, Yuanda-llongwill has made a lot of achievements in teaching research. Your research team has published many papers in core educational journals. How does your company view product research and development and educational research?
A: We have recognized for a long time that product research and development for digital experiments is definitely not a simple "one plus one" process, but a creative integration and reconstruction based on the internal laws of experimental teaching and specific teaching needs, based on the rationality of teaching methods. The development of digital experiments in the United States and Europe also proves that the research and development of digital experimental products should be an engineering technology process led by teaching experts. All technical solutions that lack teaching guidance and support will eventually be eliminated by teaching. This is the decision-making basis for the leaders of the Shanghai Municipal Education Commission and the Teaching and Research Office to establish a tripartite joint research and development center and hire Mr. Feng Rongshi, an experimental teaching expert, to take charge of the center.
Yuanda-llongwill transformed its R&D organization from a simple engineering team to a development team based on teaching and research many years ago. Such a team which has both teaching research ability and engineering vision, can always have good communication with teaching experts, can continuously provide solutions satisfactory to teaching experts on the basis of understanding the needs, and finally implement the innovation and upgrading of digital experimental software and hardware products.
In the past decade, with the encouragement of director Mr. Feng Rongshi of Shanghai DIS R&D center and the guidance of my supervisor, professor liaoboqin, the research of Yuanda-llongwill on experimental teaching has been continuously deepened and improved. On the basis of many national experimental teaching investigations and studies, we have successively formed many scientific research achievements, published many influential academic papers. Relying on the annual National High-level Forum on Digital Experiments, held several rounds of excellent papers evaluation on digital experiments, which effectively affected and led the nationwide attention and research on digital experiments.
Putting aside product research and development, we have benefited a lot from a series of in-depth educational research. First of all, these studies have increased the recognition of experts to us. The experimental teaching community has generally believed that we are not only a provider of experimental tools, but also a qualified, reliable and academically capable research partner; Secondly, these studies make us found the path of new needs, found the ideas of new product development, and provided us with a solid foundation for a long time in the digital experimental market. Therefore, guiding product research and development with teaching research has become the company strategy adhered to by Yuanda-llongwill.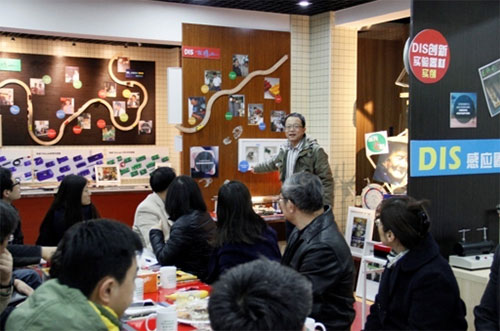 Relying on the cooperative structure of Shanghai DIS R&D Center, Yuanda-llongwill has continuously launched new digital experimental products
Q: Yuanda-llongwill has set up a special subsidiary company to engage in the production and development of disinfection and epidemic prevention products. Please talk about the new company.
A: In August 2014, we established a subsidiary, Shanghai Cleanbao Environment Technology Co., Ltd., and began the research and development of non-toxic and harmless campus environmental intervention products based on chlorine dioxide. This shows that we recognized the importance of campus health several years ago and made an advance layout in this field. So far, our Cleanbao ® series of environmental intervention products have formed a complete system from surface disinfection to air disinfection, with completely independent intellectual property rights, and have achieved ideal application results in hundreds of schools and kindergartens.
In 2020, I published two papers with the theme of campus disinfection and epidemic prevention. In February 2022, I published another paper, "the Construction of a Normalized Preventive Disinfection System for Infectious Diseases in Colleges and Universities Based on Chlorine Dioxide", advocating that everyone pays attention to the impact of COVID-19 and other epidemics on the teaching environment and teaching order, and take positive action to take safe and effective environmental intervention measures for schools, kindergartens and other densely populated environments. Since 2020, Yuanda-llongwill has actively participated in the epidemic prevention work in more than a dozen provinces, autonomous regions and cities such as Shanghai, Beijing, Inner Mongolia and Shandong, and has carried out a lot of work, including product donation and disinfection services.
In addition to covid-19, the educational community in China has also long been concerned about the campus epidemics that interfere with the teaching order and threaten the health of teachers and students, such as influenza, chickenpox, hand, foot and mouth disease, acute diarrhea, tuberculosis, etc. The advantages of Cleanbao® series of campus environmental intervention products, which are non-toxic, harmless, efficient and broad-spectrum, will be further brought into play.
Q: China Educational Equipment Exhibition has become an important stage for educational equipment enterprises to release and display products. Yuanda-llongwill has been actively participating in the China Education Equipment Exhibition for many years. Please talk about your feelings as an exhibitor and audience in these years.
A: The first time I attended the China Education Equipment Exhibition was in 2001. Looking back on the growth experience in the past 21 years, I am very grateful to the China Education Equipment Industry Association for providing this exchange platform for schools and enterprises, and to the China Education Equipment Industry Association for their hard work over the years! We will continue to actively participate in the China Education Equipment Exhibition and various activities held by the China Education Equipment Industry Association, and repay the attention and support of the China Education Equipment Industry Association to Yuanda-llongwil with practical efforts and sustained development!
Communication of China Education Equipment Industry Association