On the occasion of the National Day and the Mid Autumn Festival, Shandong Yuanda-llongwill Educational Science and Technology Ltd. (Stock Code:430511), a member of the Shanghai Digital Information System(DIS) Research and Development Center for Primary and High Schools, received a congratulatory letter from the Worlddidac Association, a member of UNESCO:
Congratulations to Yuanda-llongwill for winning the 2020 Worlddidac pedagogically valuable and innovative product award by virtue of the "llongwill Sky Lab - drone mounted data acquisition and water and soil sampling system"!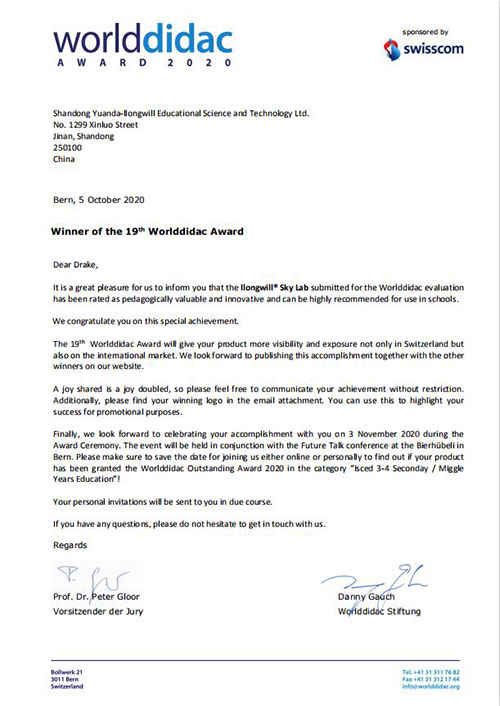 This is the third time Yuanda-llongwill has won the Worlddidac Innovation Award after the "Wireless Centripetal Force Experimental System" in 2014 and the "Mobile Digital Scientific Experiment and Inquiry System" in 2018. As a result, Yuanda-llongwill has won three awards on the stage of the Worlddidac Association so far as a company from China, and became the only enterprises in Asia that has won the highest award in the field of international education equipment three times.
Due to the epidemic, online submission of materials and online evaluation are adopted for the first time in the evaluation of Worlddidac innovation awards in 2020. Following the submission of detailed product description and video in May, Dr. Li Ding, chairman and general manager of Yuanda-llonwgill, gave a detailed presentation and demonstration of the "llongwill Sky Lab" through a video link with the experts of the Worlddidac evaluation jury on September 7, which was unanimously recognized and highly appreciated by experts from many countries.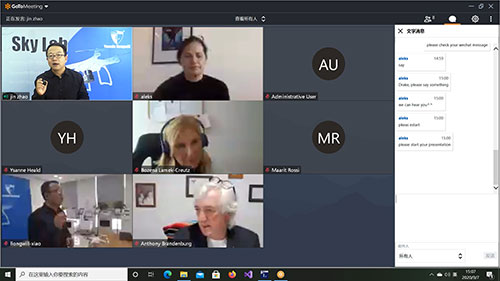 A month later, the good news came. The three Worlddidac awards that Yuanda-llongwill has achieved is the result of years of joint efforts by the Shanghai Digital Information System R&D Center and Yuanda-llongwill. It is also the honor that China's education equipment industry has won for the country under the special international environment this year. In this regard, Yuanda-llongwill are determined to continue to make further progress, continue to make unremitting efforts to develop more innovative scientific education equipment, and win more honors for China on the international education equipment stage!