Article source: Xinhuanet
On the evening of November 7, 2018, in Bern, Switzerland, the award ceremony for the 2018 Innovation Product Awards of Worlddidac, the world's leading authority for educational equipment, was held at the Bern Exhibition Center. Dr. Li Ding, the chairman and general manager of of Yuanda-llongwill Educational Sic-tech Ltd., a leading enterprise in China's education equipment industry and a member of Shanghai Digital Information System R&D Center for Primary and Middle Schools, received the exquisite trophy from the Executive Chairman of the Worlddidac, and was awarded the certificate of "2018 Worlddidac Innovation Award". At this moment, China's education equipment shines on the international stage.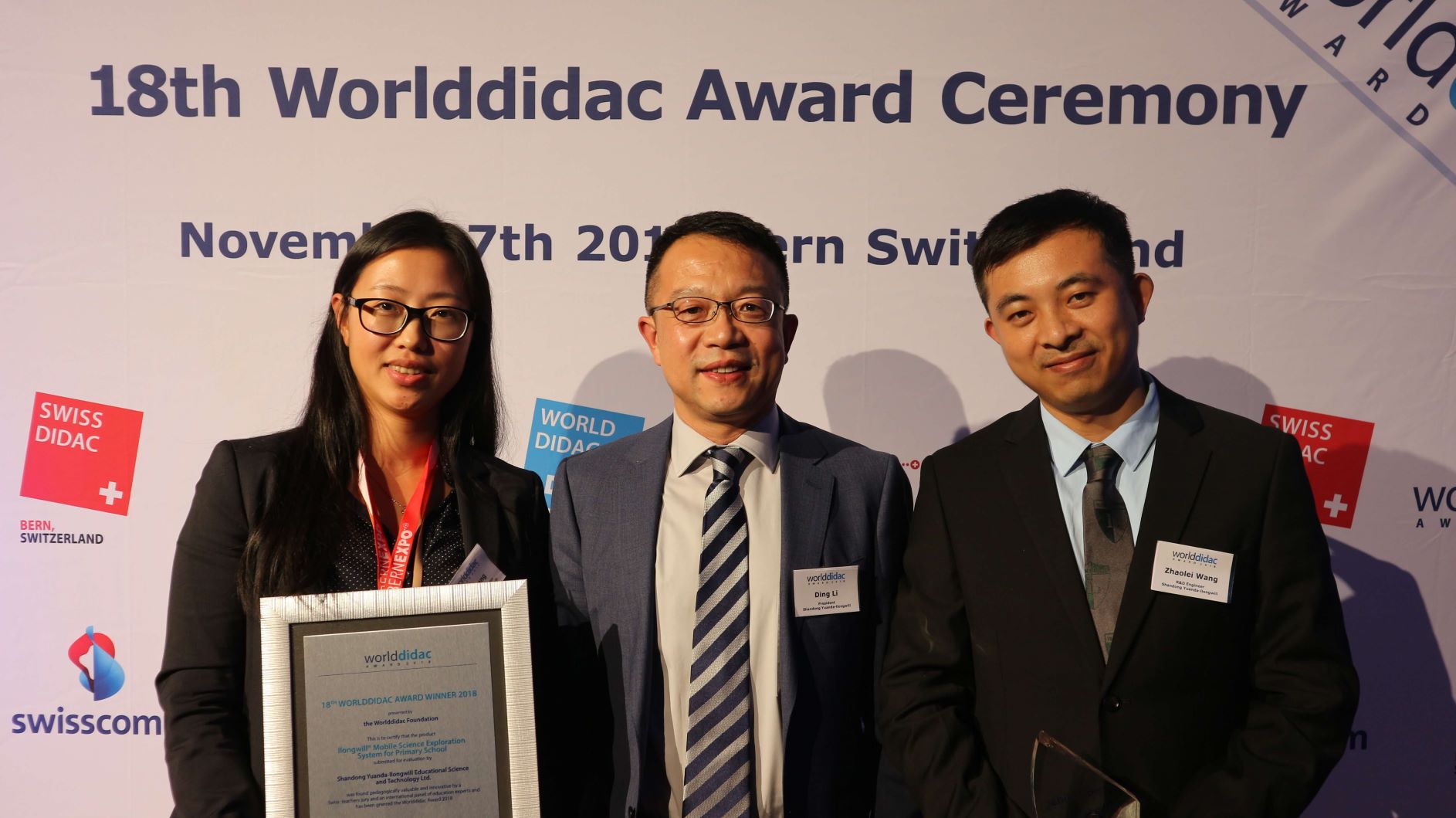 The education equipment which won the "2018 Worlddidac Innovation Award" is referred to as the "Digital Information System Laboratory(DISLab)", which is the key supporting project of the second stage of curriculum reform in Shanghai, and is also regarded as the masterpiece of the integration of information and technology and curriculum teaching in the industry. In 2002, the Teaching and Research Department of Shanghai Education Commission set up a special research and development center, led by senior experiment teaching expert Mr. Feng Rongshi. It opened a long way for independent research and development of digital experiment instruments. After initial research and development, pilot improvement, promotion and application and deepening development, DIS has gradually developed and expanded. It has been successively written into the Shanghai middle school physics curriculum standards, the national middle school physics and primary science curriculum standards, and has obtained many achievement in supporting the compilation of science textbooks, product research and development, improving the quality of science teaching and servicing curriculum reform. DIS project won the first prize in the national teaching achievement award in 2014.
Shanghai R&D Center set a higher future development goal, and continued to expand the depth and breadth of DIS in the field of science teaching: "transfer" more advanced and effective information technology to improve the accuracy of the experiment; overcome the difficulties that traditional experiments can not overcome; optimize the existing experiments to make them more intuitive and explicit. Gradually, DIS users have expanded from domestic to more than ten countries around the world, including the United States and Malaysia.

In 2014, the DIS "Wireless Centripetal Force System" participated in the Worlddidac Innovation Product selection for the first time, and won China's first trophy in history. In June this year, the llongwill® Mobile Digital Science Exploration System was launched and evaluated again. It won the award for the second time, and was the only representative of Asia in the award-winning products of the Worlddidac Innovation Award. Now, DIS has won an international award once more, and let's look forward to the future .